Development and tools
Program for the determination of the optimal application volume for phytosanitary treatments on vineyards. Based on the optimal coating method, the program calculates the application volume from the structural characteristics of the vegetation, taking into account also aspects such as the type of machine, the environmental conditions, the type and mode of action of the product and other specific features of the application. The program has been widely contrasted in commercial farms in Spain and the United States with satisfactory results (savings of up to 40% of the stock distributed). To go to the web click here.
It is a version based on the well-known air-blast sprayer calibration disc designed by  Hardi. Currently, a tool with the Java® language has been developed to help the sprayer calibration process. This album is currently being distributed in our training courses. For its use there is a tutorial posted on the internet here. It is working on a digital version and another disc for boom sprayers. These discs have had the support of the European Commission and the LIFE Fitovid project.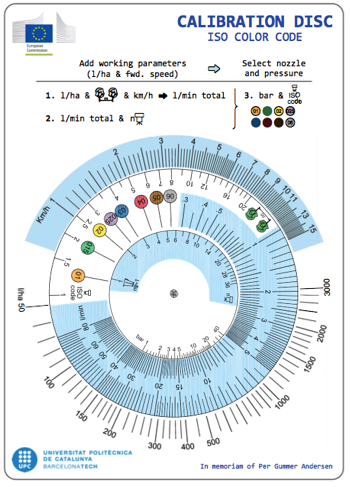 EOS - Environmentally Optimized Sprayer
Within the framework of the TOPPS project, the EOS tool (Environmentally Optimized Sprayer) has been developed, which allows the classification of application equipment according to the risk of environmental contamination. See the application in the following link.
Vertical spray patternator
The UMA has designed and built a test bench for the determination of the vertical distribution of liquid with air assisted sprayers. It is a removable system for using in the field and it allows to correctly adjust the orientation of the nozzles in the sprayer, adapting it to the characteristics of the vegetation. The patternator has been used in transfer actions carried out at Cornell University (USA). See more information in the following links:
http://web.entomology.cornell.edu/landers/pestapp/documents/Patternator.pdf
http://asae.frymulti.com/abstract.asp?aid=22328&t=2